Meaning and Origin of the Name Darcy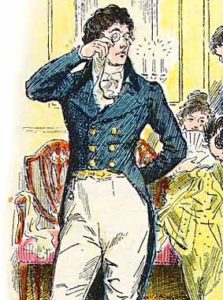 The name Darcy has its roots in England traced back as a surname introduced during the Norman Conquests. However, the meaning of Darcy in the Celtic tongue is dark or dark one in Irish.
Darcy was also the surname used in Jane Austin's "Pride and Prejudice" novel from 1813. The name Darcy, while a boy's name, has a variant spelling of Darcey.
Popularity of the Name
Darcy was not in the top 100 English baby boys names in 2014.
Famous People Called Darcy
Current examples of celebrities named Darcy include the most famous historical reference of Mr. Darcy from "Pride and Prejudice", Retired Hockey Player Darcy Tucker, and retired motorcycle speedway champion Darcy Ward.
In addition, the popularity of Darcy has been used in several other works such as:  Darcy Willis from the Bluford Series, Marcy and Jefferson D'Arcy who were characters in the sitcom, "Married with Children", Darcy Lewis, a political scientist in Thor, Darcy Rhone, a character in Emily Griffin's novels "Something Borrowed" and "Something Blue", and a song titled "Darcy Farrow" written by Steve Gillette and Tom Cambell.
Useful Resources
Discover the meaning and popularity of other English boys' names.