Meaning of the Name Den
The meaning of Den is "follower of Dionysius" or "son of Dennis." The name comes from the longer name Dennis, and Dennis is a name that is heard of often.
Popularity
The name Den is not one of the most popular boys names in England currently. The popularity of Den is so low that it didn't make it to the top 100 baby names in 2016 (according to the ONS), but it is still a name that is modern enough to be used by new parents.
Famous People Called Den
Den is the first name of a few famous men, and one of those men is Densmore Ronald Driver, who is more commonly known as Den Dover, and who is a politician. Another famous Den is Den Harrow, an Italian fashion model. Den Watts is a fictional character many people love.
The most famous English television character with the name must be Den Watts (Dennis Watts) from the soap Eastenders. Den Watts was affectionately known as Dirty Den.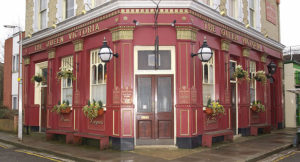 So, while the name Den wasn't one of the most popular baby names recently, it is still being used and heard. It has a simple sound, and it is a name with simple spelling and that is easily recognisable.
Useful Resources
Discover the meaning and popularity of other English boys' names on our website.