Patrick – the Meaning and Origin of the Name
The name Patrick originates from the Latin, Patricius, meaning "nobleman".
The name has several versions from Patric to Padraig to Paddy. Although Patrick's popularity has remained high in Ireland thanks to the story of Saint Patrick, Jack remains the top name for boys there.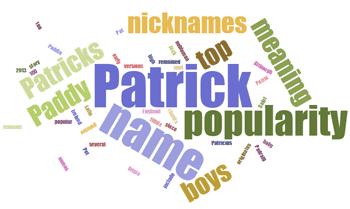 Popularity
Patrick's popularity has not enjoyed a spot on the top ten since the early 1960's. In 2013, Patrick was not in the 100 most popular baby boys' names in England.
Nicknames
Pet of nicknames for Patrick include: Pat, Paddy, Paddie
Famous People with the Name Patrick
The meaning of Patrick is still considered to be quite sacred thanks to the famous Saint Patrick. According to legend, Saint Patrick drove out all the snakes in Ireland. While it's not known for sure whether that's actually true, what is known is that he was a missionary involved in the conversions of the Irish from their Celtic traditions to Catholicism. Not much is known about his life but according to the Confessio, he was captured by Irish pirates from Great Britain and held captive as a slave. He remained a slave for six years before a successful escape. He eventually served as an ordained bishop somewhere in the northern and western parts of Ireland.
A couple of other famous people named Patrick include the actors Patrick Swayze and the English man Patrick Stewart. The former passed on in 2009 and was most famous for his roles in Dirty Dancing, The Outsiders and Ghost. The latter is famous for playing Captain Jean-Luc Picard in Star Trek: The Next Generation.
Useful Resources
Discover the meaning and origin of other English names on our website